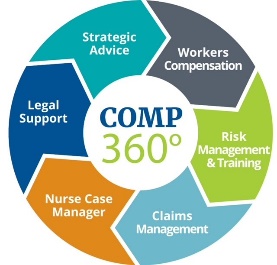 MBSIG's Comp360 training is an important Membership benefit for you, offering a comprehensive system for preventing and managing workplace injuries. Comp360 empowers employers in the MBSIG to take control of workers compensation costs by strengthening safety programs and minimizing your workers compensation losses.
We offer two to four training sessions a year in Massachusetts geared to Executive Directors, CFOs, Injury Coordinators, Safety Coordinators, Managers, Supervisors, Human Resources and Facility Managers. At least two representatives from each member must attend one of these annual workshops.
Past training topics include:
ALICE Training – Alert, Lockdown, Inform, Counter, Evaluate
Wellness and Safety in the Workplace
Helping Distresses Colleagues
Understand and Navigate the Landscape of the DOI
Essential Skills for Supervising and Leading
From Problem to Productive, A Guide to Coaching
Managing to Maximize Employee Engagement
Members have access to Comp360 Resources by signing in here.
Forms
Training
Tools
Sample Policies
Links
Please contact Darlene Nunes, Member Services, if you require assistance with username and password.
Email: Darlene.nunes@cabotrisk.com
Tel: (781) 939-6803